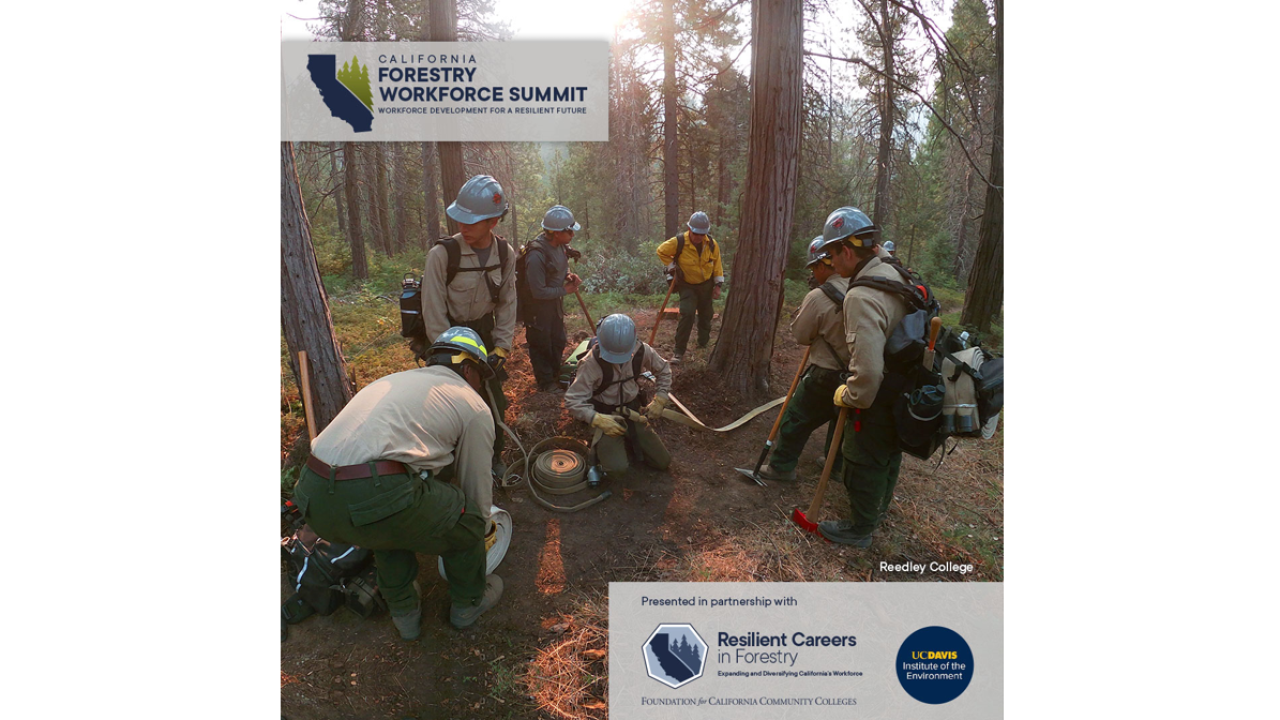 California Forestry Workforce Summit
The UC Davis Institute of the Environment, in partnership with the Foundation for California Community Colleges' Resilient Careers in Forestry program, is excited to host the California Forestry Workforce Summit Jan. 31 and Feb. 1, 2023 at the UC Davis Conference Center.
The event will provide a platform for federal and state leaders to identify challenges and resources for effective, equitable workforce development in forestry and wildfire management and help Californians prepare for and secure meaningful careers in this vital sector.
A broad range of stakeholder groups, including government and tribal representatives, forestry professionals, researchers, college and university administrators, and others interested in forestry, will participate in this critical multilateral dialogue.
Speakers include:
Stacy Caldwell, CFRE, CEO, Tahoe Truckee Community Foundation 

Matt Dias, President/CEO, Calforests

Don Hankins, Ph.D., Professor of Geography and Planning, California State University, Chico 

Sheba Person-Whitley, Regional Director, U.S. Economic Development Administration

Tim Robards, Forestry and Fire Protection Administrator, CAL FIRE

Robert York, Ph.D., Assistant Professor of Cooperative Extension, Adjunct Associate Professor of Forestry, UC Berkeley

and many others
The summit will take place from 10 a.m. to 5 p.m. Tuesday, Jan. 31, 2023, and 8:30 a.m. to 3 p.m. Wednesday, Feb. 1, 2023, at the UC Davis Conference Center at 550 Alumni Lane in Davis.
Please click here for registration information.
For questions about the summit, please contact conferences@foundationccc.org.