We'd Love to Hear From You!
Please visit our online directory for contact information for individual researchers or staff members in the Institute or one of our centers.
For general inquiries, please email us at environment@ucdavis.edu. We can also be reached via phone by calling 530-754-0909.
Visit us on social media! We post regularly to Facebook, Instagram, and Twitter.
The UC Davis Institute of the Environment is located on the UC Davis campus at The Barn, a historic horse barn located at 501 Engineering Bikeway, southwest of the Silo near Giedt and Kemper Halls.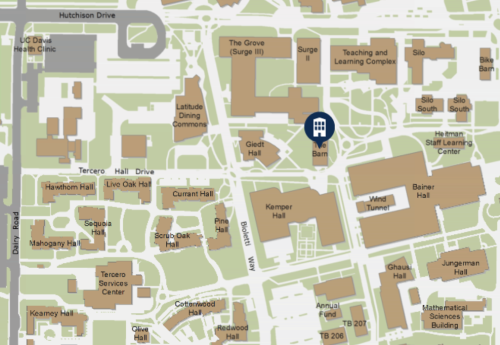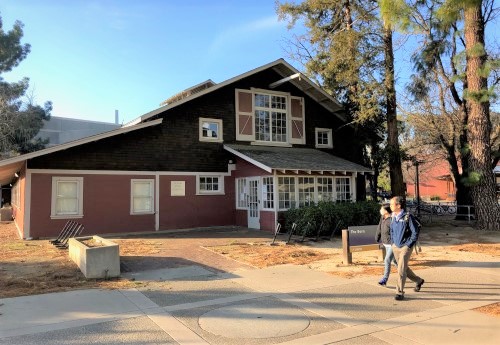 Directions and Visitor Parking
Parking for visitors to The Barn is most convenient in Visitor Parking Lots 40, 47, or the West Parking Structure.
From Insterstate 80: Take the Highway 113 exit and follow Highway 113 north toward Woodland. Take Hutchison Drive exit and turn right on Hutchison Drive (eastbound).
West Parking Structure and Visitor Parking Lot 40: From eastbound Hutchison Drive, continue straight past the La Rue stoplight to the West Parking Structure stoplight. Turn left at the light to enter the parking structure. Alternatively, continue straight through the light and turn right at the first stop sign into Parking Lot 41. Drive to the west end of the parking lot to Visitor Parking Lot 40.
Visitor Parking Lot 47: From eastbound Hutchison Drive turn right at the first stoplight onto La Rue Road. Follow La Rue Road south and around the bend toward the east. Turn left into Visitor Parking Lot 47.
For the latest information on parking rates and procedures, please visit UC Davis Transportation Services' parking page.