Inspiring Environmental and Climate Action Through Art
During the last decade, artists have increasingly turned toward addressing social and ecological issues linked to the climate crisis, including food access, melting glaciers, and deforestation. This work packs an emotional punch that's difficult to ignore – documenting a pressing reality and inspiring action.
The Institute of the Environment's Inspiring Environmental and Climate Action Through Art program coordinates and supports student research and learning opportunities through partnerships centered around art as a medium to amplify awareness of environmental issues and climate change.
Our California Climate Art Trail is adding to the urgent conversation around climate change. We're partnering with students, youth groups, educators, farmers, agricultural organizations, and industry to create a series of murals throughout California showing how climate change affects agricultural communities and how these communities are combating the climate crisis.
As with our first mural, future murals will be created on the sides of barns, in community parks and gardens, and in urban areas surrounded by agricultural lands.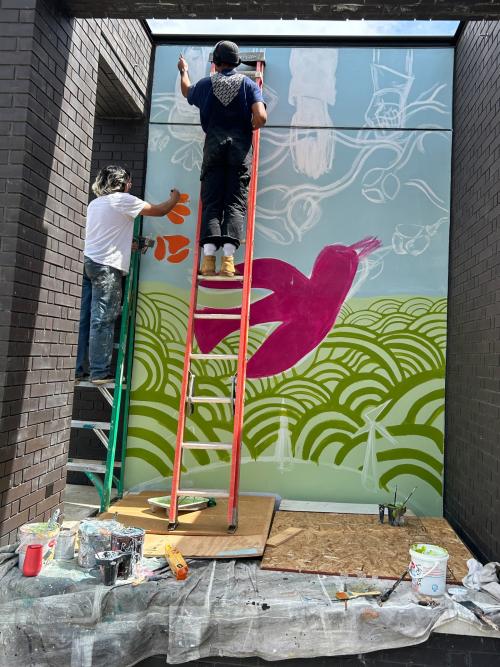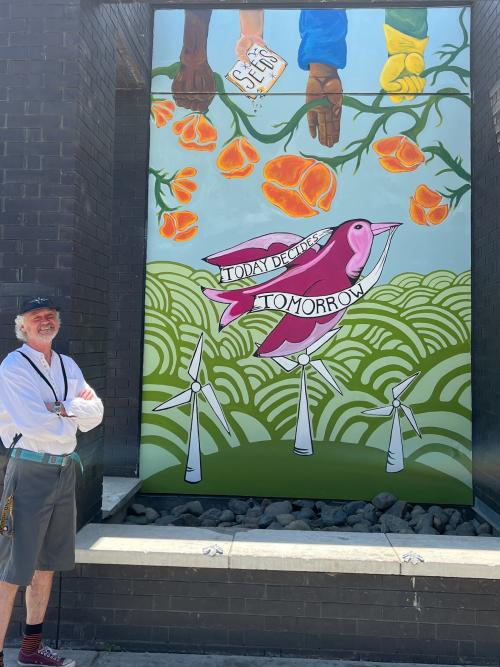 In spring 2023, Chico State University drawing and painting professor Jerome "J" Pouwels, in partnership with the Institute, developed a composition with his mural class. Surrounded by agricultural fields at Chico State, students are reminded of agriculture's bounty, as well as its impact on the environment, and the mural reflects the students' ultimate optimism. Embedded in an agricultural community, and deeply aware of the consequences of climate change, the students ask the question: What does action toward a sustainable future look like here?
"The mural shows a bird, representing peace and holding the banner 'Today Decides Tomorrow,' encouraging viewers to consider the consequences of farming techniques," according to the students. "The diversity of hands representing farmers and community members are working together as they sow our state flower, the California poppy. By using bright colors we hope to get the attention of passersby and engage them in our message. It is time to come together and make positive changes that will affect generations to come."
The Institute of the Environment is also working with the City of Davis, muralist Gregory Shilling, and UC Davis students to create a mural for Davis that will show what land justice, climate-friendly agriculture, and sustainable food systems mean for the city and the lands it stewards. Check back here for additional details as they become available.
We've also partnered with agclimateheroes.org on the murals. Visit their site to learn more about the values behind the project.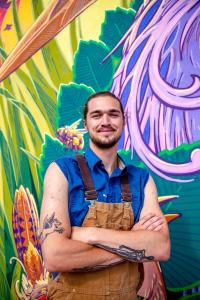 Learn more about Inspiring Environmental and Climate Action Through Art and how you can help support the initiative by clicking here.